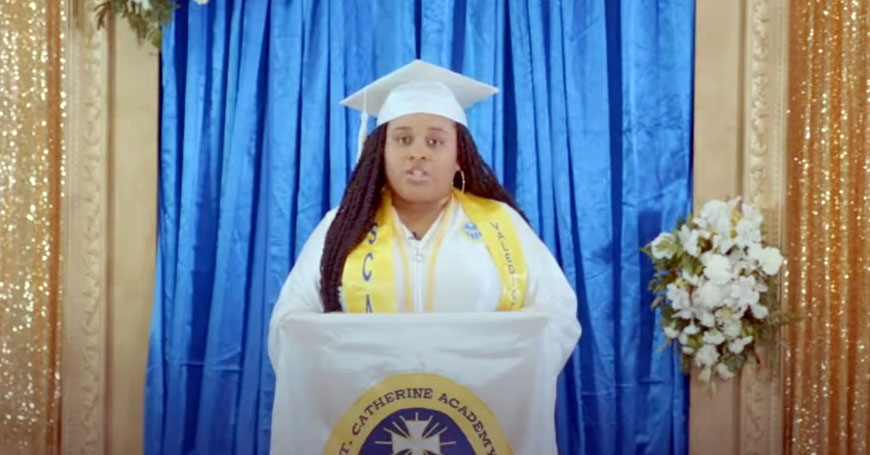 Valedictorian – Nahjah Perez
The Valedictorian of the Class of 2021 is a vibrant and focused young leader. She came to SCA from Bernice Yorke Institute of Learning and immediately knew that this is where she would want to be standing on this very important day. Her determination and willpower have most certainly led her to this part.
This year's valedictorian comes from a large family with a strong value system, consequently, family time is a very important aspect of her life, she also enjoys traveling and listening to music. Yes, the title of valedictorian is awarded to the highest-ranking student in academics, but she can also be acknowledged for her active roles as last year's Student Council Second Vice President, and her role as a Prefect. So she has the academics, she has the leadership role but she also has time to add some more to her busy life, she is the Co-Captain of the best high school cheerleading squad, of course, that's SCA's squad.
Today concludes her science journey at Saint Catherine Academy, but she carries with her the skills and values as she pursues her dream of becoming a Pediatric Surgeon at New York University, she will be enrolled for two years in the Liberal Studies Core Program on the Pre-health track, thereafter, she will transfer to the college of art and science to major in Biochemistry with a minor in Psychology.
Ladies and gentlemen, without further ado, please put your hands together as we welcome our valedictorian of the class of 2021, Nahjah Perez, graduating with an outstanding cumulative average of 98.03250.