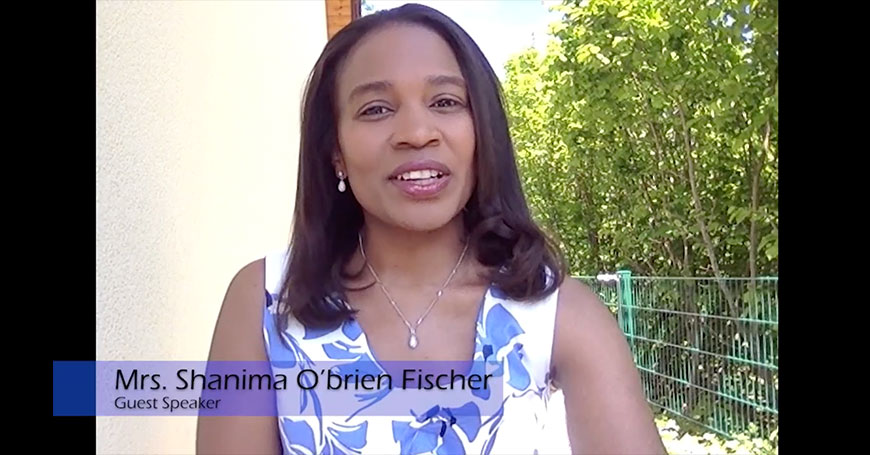 Guest Speaker SCA Virtual Graduation 2021 Mrs. Shanima O'Brien Fischer
Why major in science or business when you can major in both? Why do further studies in the USA or the UK when you can study in both? Why be an engineer or a writer when you can be both? And why speak the German language or Spanish when you can speak both?
Allow me just a brief moment to bring you some inspiration by sharing some highlights from the vast fields of the highly accomplished Mrs. Shanima O'Brien Fischer, our graduation's guest speaker. After taking off from the SCA runway with first-class honors, Mrs. O'Brien Fischer soared in her academic stride in science at the University of Belize, then attained a bachelor's degree in Engineering at Santa Clara University, USA, and finally reached the pinnacle of her studies with a Master of Science degree in International Business from the Aston Business School, UK.
The roots of high achievement, buried deep within, Mrs. O'Brien Fischer acquired various academic awards such as the Anawalt Memorial Scholarship. In her professional life, design, analysis, coordination, manufacturing, planning, and program management are featured skills she mastered having worked as lead planning engineer for GM, UK, specialist product designer for 3D and 2D cockpit and center console components for BMW X3, X4, X5 vehicles, Schneider Holding GMBH Automotive Project Manager, and Amazon EU Launch Program Manager, throughout Germany, Austria, and the Netherlands, yet, outside or problem-solving and management, she also served as Technical Engineer Writer, who has mastered various technology tools.
Ladies and gentlemen, here to give us the commencement address, is the estimable, extraordinaire, multilingual, academician, broadly skilled in engineering and Business Administration, Mrs. Shanima O'Brien Fischer.